They say no one wants to come to picture shows no more.
Set between WWII and the Korean War,
Peter Bogdanovich
's film
The Last Picture Show
is about the end of an era in a small Texas town.
Though it wasn't my era, I could identify with this coming of age story and the film as
Film
meant a lot to me when it came out in 1971.
It centers on Sonny Crawford (Timothy Bottoms) and his friend Duane Jackson (Jeff Bridges)and the cast includes Cybill Shepherd in her film debut, Ben Johnson, Eileen Brennan, Ellen Burstyn, Cloris Leachman, Clu Gulager, Randy Quaid in his film debut and John Hillerman.
It was one of the first films to have used a contemporary popular music soundtrack, and for aesthetic and technical reasons it was shot in black and white, which was unusual for its time.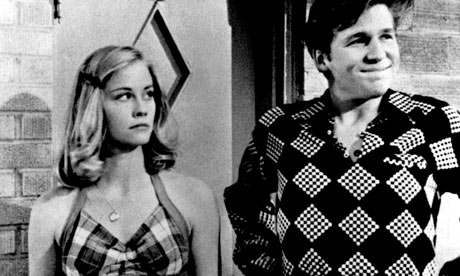 The film was nominated for ten Academy Awards, including Best Picture, Best Director, and four nominations for acting: Ben Johnson and Jeff Bridges for Best Supporting Actor, and Ellen Burstyn and Cloris Leachman for Best Supporting Actress. It won two: Johnson and Leachman.
Watch a clip with critical commentary at
Critics' Picks: 'The Last Picture Show' - The New York Times
: